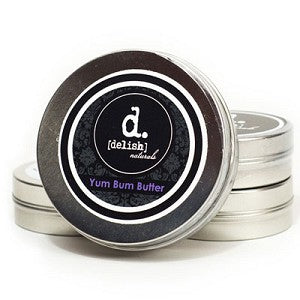 YUM BUM BUTTER 4OZ TIN
---
Yum Bum Butter is a cloth diaper safe salve formulated with nourishing ingredients such as Organic Coconut Oil, Organic Olive Oil, Organic Cocoa Butter, Shea butter, Vitamin E and Calendula Infusion which help soothe, and protect. Yum Bum butter helps relieve dry, cracked skin and clear up rashes, keeping their bums baby soft. All of our ingredients are as ethically and sustainably sourced as possible, giving you the best product possible while being eco-friendly and globally conscious.   Many mamas use it for so much more than diaper rash. Skin problems, dry and cracked skin all over the body, elbows and heels all benefit from this "miracle"!
When it comes to skin care  Babies can be sensitive to much more than older children or adults.  Like adults, their bodies absorb chemicals and active ingredients from substances that they come into contact with.  However, since their systems are so tiny, even small amounts of irritants can upset their delicate balance.
Ingredients
Organic Coconut oil, Beeswax, Organic Cocoa butter, Shea butter, Calendula, Organic olive oil, Vitamin E, Therapeutic grade essential oils.